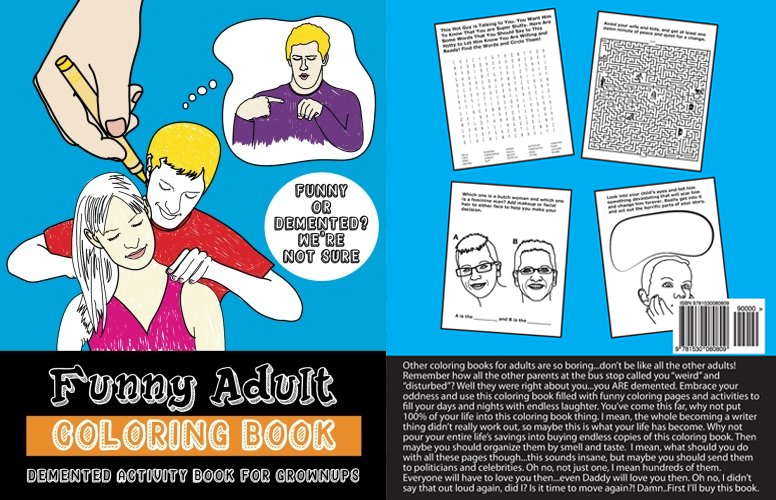 Get This Coloring Book on Amazon
Other coloring books for adults are so boring…don't be like all the other adults! Remember how all the other parents at the bus stop called you "weird" and "disturbed"? Well they were right about you…you ARE demented. Embrace your oddness and use this coloring book filled with funny coloring pages and activities to fill your days and nights with endless laughter. You've come this far, why not put 100% of your life into this coloring book thing. I mean, the whole becoming a writer thing didn't really work out, so maybe this is what your life has become. Why not pour your entire life's savings into buying endless copies of this coloring book. Then maybe you should organize them by smell and taste. I mean, what should you do with all these pages though…this sounds insane, but maybe you should send them to politicians and celebrities. Oh no, not just one, I mean hundreds of them. Everyone will have to love you then…even Daddy will love you then. Oh no, I didn't say that out loud again, did I? Is it time to move again?! Damn..First I'll buy this book.
We hope that this coloring book will make you laugh, or at least smile. The humor definitely isn't for everyone, but I think you will enjoy it if your humor is a bit demented like mine is. Here are a few free pages that you can enjoy from the coloring activity book.